Your Kitchen & Bathroom Solution
Renovating a bathroom or kitchen is one of the main steps to increase your quality of life, and the value of your home. We are experienced in renovating all size and shape of bathrooms and kitchens.
When doing a bathroom renovation it is important to ensure water proofing is done correctly so that water does not seep behind tiles or into other areas and cause black mold to grow.  My Home Solution is trained and certified in the Schluter System.
The Schluter System involves installing a metal "L" angle prior to placing tiles, which serves as an edge protection, but also hides the unglazed edge and provides a straight, clean and waterproof transition to adjoining surfaces.
Whether you are renovating a small bathroom or a complete renovation of your dream kitchen, we pay attention to design, functionality, quality hardware and the small details.
We are committed to quality and client satisfaction and will guide you through the selection of counter top, tiles, faucets, fixtures and accessories so that the final result is a custom design and functionality which works for you and your lifestyle.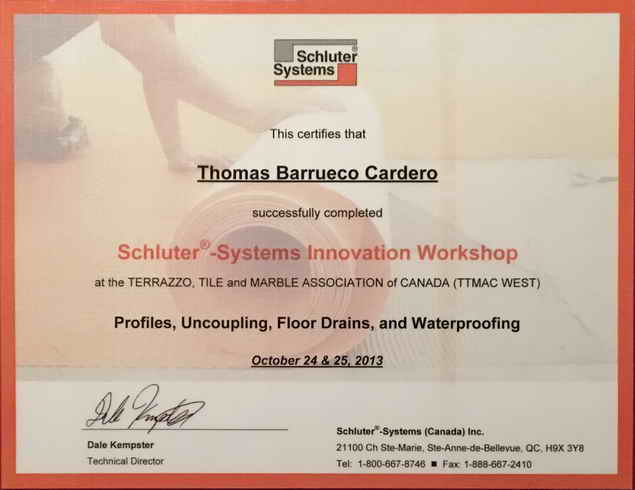 We had Tomas of My Home Solution complete two kitchen projects for us. The first was customizing and installing an Ikea kitchen for our basement suite. The second was a remodel of our upstairs kitchen. The projects involved building custom cabinets and drawers, installing trim and gables and a mosaic glass tile backsplash. All work was done with precision and we loved the final outcome.  What we like about Tomas is that he's approachable, professional and willing to collaborate with the homeowner in regards to project ideas. He has contacts with other trades who also do quality work. We would not hesitate to use Tomas again for any future projects and highly recommend him to anyone looking to do the same.

We hired Tomas to renovate the kitchen in our basement suite. The work involved new cabinets, countertops, sink/faucet and associated plumbing as well as flooring. It was a challenging project as the floor had a slope and the walls were not plumb. We were impressed with the quality of work; Tomas was always on time, polite, and trustworthy. We also felt Tomas had our best interest at heart as he provided recommendations that saved us money. On several occasions, he went out of his way to assist us on the project that really was above-and-beyond. We would have no hesitation in recommending Tomas.

I hired Tomas to build a custom closet system. I was very impressed with his attention to detail, especially when it came to creating a practical design for the space that I had. The final product was exactly what I needed. Tomas goes above and beyond for his clients. Despite an unexpected elevator malfunction in my building, Tomas hauled all materials and tools up 10 flights of stairs to deliver the project on time. I have already recommended him to several friends and will continue to do so.